Frequently Asked Questions
What is the Citizenship by Investment Program?
St. Christopher (Kitts) & Nevis established its Citizenship by Investment Program in 1984, the first of its kind world over. This program aims at attracting reliable investors from all over the world to contribute maximally to the development of St. Kitts & Nevis.
It is becoming increasingly difficult to gain citizenship and passport of foreign countries through 'legal' means. This is understandable as governments are striving to ensure that only wealthy or high net worth investors capable of making tangible contributions to the economic growth of their countries are allowed access to such programs.
What is the minimum investment required?
The minimum investment required is US$150,000, however, if you need information on the various options available, please visit this page.
How long will it take to process the application?
The process takes a 2-4 months time frame after the complete application forms and other documents have been accepted, and the necessary funds paid. The time frame is the same irrespective of whether the applicant chose SIDF or the real estate program.
Is there any difference between SIDF and the real estate option?
Although the real estate option is more expensive, it is recoverable because the applicant can sell the property after five years. On the other hand, SIDF is a form of public charity donated to the sugar industry foundation (charity) and is non-refundable by the Government.
Besides, after the real estate is sold, the new buyer is eligible for citizenship. It is also a good idea to have a second home in St. Kitts & Nevis with the accompanying citizenship and passport. Therefore, we highly recommend the real estate option.
However, it takes the same amount of time to approve both SIDF and the real estate.
Are there any restrictions on who can apply?
The only restriction is that the program excludes applicants from Iran and Afghanistan regardless of where they reside.
Does St. Kitts & Nevis passport offer any advantages?
Yes, St. Kitts & Nevis passport offers many benefits to applicants including:
Freedom to live and work as a citizen in St. Kitts & Nevis

Stress-free travel to 156 countries including all EU countries, Canada, Switzerland, Ireland, and the United Kingdom

Non-payment of income or wealth tax

No residence requirements

International tax planning

Availability of second citizenship for your family members.
Do I need to meet any residency requirements before I can obtain a passport?
You can qualify directly for St. Kitts & Nevis citizenship. You do not need any residency requirements, unlike Europe.
Which countries do I have visa-free access to with my St. Kitts & Nevis passport?
With St. Kitts & Nevis's passport, there are over 150 countries that you can travel to without a visa. Visit this page to learn more about the list of countries.
Are there any taxes to be paid?
There are no personal income tax, no wealth tax, and no inheritance taxes in St. Kitts & Nevis.
What is the validity period of St. Kitts & Nevis's passport?
The passport issued has a 10-year validity after which it can be renewed. Moreover, citizenship is for life.
Can my citizenship application be denied for any reason?
Yes, if the applicant has a criminal record, a bad reputation, or is unable to scale through the due diligence clearance, the Government may decide to decline the citizenship application. Bear in mind that in some rare cases, the Government may refuse the application on the grounds of national security or false information presented on the citizenship application.
Also, if you have been denied a visa in any of the countries where St. Kitts & Nevis has visa-free travel access, you are not eligible for the Citizenship by Investment program. For you to qualify for the citizenship program, you must have successfully acquired a visa from the country that previously denied your visa application.
Take note: Granting citizenship to applicants is at the sole discretion of the Government of St. Kitts & Nevis. We cannot guarantee that your application must be approved. What we do is to carefully scrutinize each applicant's unique circumstances before the acceptance of the citizenship applications. We can only submit the application to the Government when we are satisfied with the application and the applicant's eligibility. We strive to maintain the confidentiality of our esteemed affluent applicants and we do not employ any intermediaries in the discharge of our duties.
What documents are required for the application?
The following documents are required:
Police clearance certificate. You must obtain a 'certificate of no criminal record' from all the countries you have resided in within the past 10years (that is if you have lived in other countries). For US residents, you must provide a police clearance from your county and the FBI.
Note that the police certificates must not be more than six months old when you filed your citizenship application.
Two original birth certificates for each applicant.

A medical certificate, including HIV clearance that is not more than three months old.

Certified copy of marriage certificate where applicable.

Two reference letters from Bankers, Lawyers, Chattered Accountant, all less than three months.
Take note that all documents which are in other languages that are not English must be officially translated into the English language. Also, all the above-mentioned documents must be certified.
If I have two children who are 16 and 18 years old respectively, will the due diligence be carried out for them?
Yes, due diligence will be conducted for every child of 16 years and above.
How do I start the application process/how do I apply?
Please contact us now to discuss this with our professional advisors. We will give you a comprehensive quote and an overview of the procedure based on your family size and preferable investment option.
Must I live in St. Kitts & Nevis after I obtain citizenship?
You have the right as a citizen to live and work in St. Kitts anytime. But you do not need to live in St. Kitts & Nevis.
Do I need to pay a personal visit to St. Kitts & Nevis before I can acquire a passport?
We take care of most of the work for applicants; therefore you do not need to visit. But it will be great if you can visit St. Kitts to see it firsthand, especially the real estate sector.
We encourage all our clients to visit St. Kitts & Nevis even though visitation is not compulsory. It will help you make informed decisions about your real estate investments and allow you to have one-on-one discussions with our lawyers and estate planning specialists.
How do I visit? Do I need to apply for a visa before I can enter St. Kitts?
Citizens of certain countries are not required to apply for a visa before they can visit St. Kitts & Nevis. To get more details about this, please visit the St. Kitts Ministry of Foreign Affairs website,
What are the flight routes for coming to St. Kitts?
For details about flight schedules to St. Kitts, please refer to the St. Kitts Tourism Page.
Does St. Kitts & Nevis permit dual citizenship?
Yes, the Government allows dual citizenship and does not divulge citizenship information to other countries. Having dual citizenship depends on where you reside and the laws of your home country. Some countries may require you to relinquish the citizenship of one country to acquire that of another.
What are the costs and fee structure for the citizenship application?
Please visit this page for the cost and fee structure. For further inquiries, please contact us.
What is your refund policy if the citizenship application is denied?
As a rule, we only demand 50% of our legal fees (US$5,000) upfront before the commencement of the application process. If the Government rejects the application, we will refund half of the US$5,000 to the applicant.
If we are expecting a baby, will the newborn baby acquire citizenship?
So far as the parents of the baby are both St. Kitts citizens, the newborn baby will automatically inherit citizenship.
Location:
St. Kitts & Nevis is located in the Caribbean Sea, about one-third of the way from Puerto Rico to Trinidad and Tobago.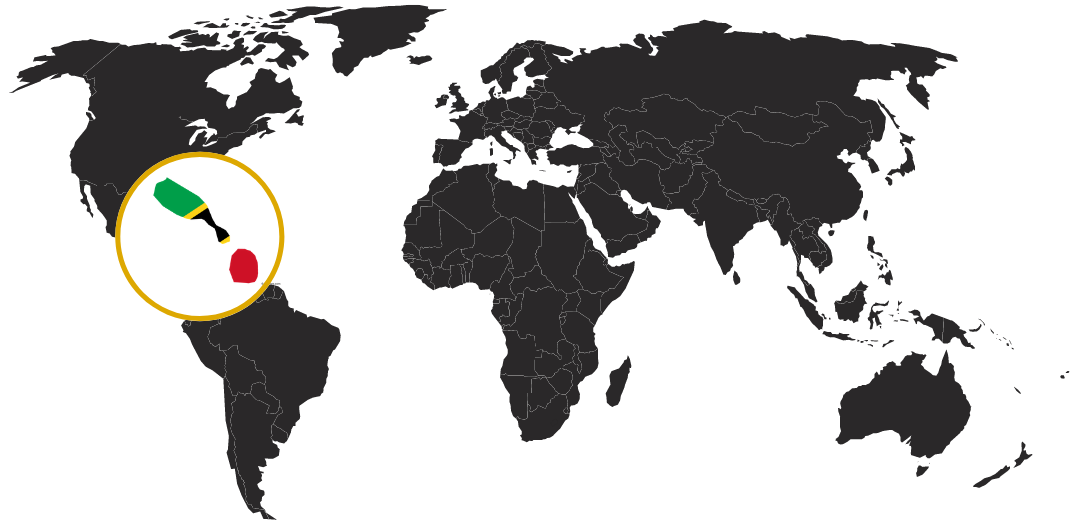 Key Benefits:
• Fast processing. 4 months – or 60 days for the Accelerated Application Process.
• Valid for life. Transferable to descendants.
• Visa-free or visa-on-arrival travel to 156
countries.
• No physical presence required & no minimum stay required.
• Attractive program and processing costs (from just $150,000).
• Dual citizenship recognized.
• Attractive tax regime. No tax on income, wealth or inheritance.
• Entire family are eligible. Including spouse, children, parents and siblings.
• Short investment period. 5-7 years if you invest in property.
• Investment required only after approval.
• Confidentiality. Information on investors who acquire citizenship is kept completely confidential.
Population:
52,329
Economy:
Tourism-based
Capital:
Basseterre
Time zone:
UTC-4
Total area size:
261 sq. km.
Age Demographics:
0-14: 20.61%, 15-24: 14.82%, 25-54: 44.85%, 55-64: 11.38%, 65+: 8.34%
Language:
English (official)
Religions:
Anglican, Other Protestant, Roman Catholic
Goverment Type:
Federal parliamentary democracy (National Assembly) under a constitutional monarchy and Commonwealth realm
Currency:
East Caribbean dollars (XCD), tied to USD (1 USD = 2.7 XCD).