St. Kitts & Nevis Citizenship by Investment 
Flexibility, Mobility, Freedom.
St. Kitts & Nevis boasts of exotic natural beauty with clement blue skies and dotted by white sandy beaches, making it one of the most spectacular locations you can find in the Caribbean.
To crown it all, the country's CBI program ensures that new citizens can easily obtain citizenship in just 60 days.
WHY CHOOSE ST. KITTS & NEVIS
St. Kitts & Nevis is a gorgeous two-island nation unique for its tropical temperatures and enchanting, clear blue waters with a vibrant tourism and trade economy. The Island is effortlessly accessible through direct flights to and from the US and Europe. Residents have an array of mouth-watering benefits including dual citizenship and tax-free global income.
St. Kitts & Nevis offers a Citizenship by Investment program that is among the oldest of such programs. It provides a plethora of advantages to applicants such as:
Speedy Application Process requiring mere 60 days approval

Swift four-month processing period

Inclusion of financially-dependent siblings of the main applicant who have no children of theirs under 30

Inclusion of dependent children below 30 as well as dependent parents or grandparents above 55.

Non-requirement of an interview, education, or managerial experience.

Non-requirement of physical visitation to of physical residency during the application process.

Non-compulsory physical residency requirement.

Visa-free visitation to over 156 countries, including Hong Kong, Singapore, the UK, and the Schengen area of Europe.

Recognition of dual citizenship by St. Kitts & Nevis.

Non-payment of tax on income, wealth, or inheritance.
QUALIFICATIONS
In 1984, St. Kitts & Nevis (St. Christopher & Nevis) established its Citizenship by Investment Program under the 1984 Citizenship Act, Part II, Section 3 (5) regulations, making it the oldest Citizenship by Investment program in the world. It has been a viable program for the country these past 36 years due to its structure and process.
Applicants are required to meet the following criteria in addition to the fulfillment of any of the two investment requirements listed underneath:
Have no criminal record

Possess impeccable character

Be in excellent health and

Possess a high personal net worth.
INVESTMENT OPTIONS/REQUIREMENTS
1. Sustainable Growth Fund
Kitts & Nevis initiated a new permanent investment fund in April 2018. This replaced the temporary Hurricane Relief Fund established to tackle the devastations from the 2017 hurricanes in the Caribbean. This new Sustainable Growth Fund accepts donations within these thresholds:
US$25,000: Spouse
US$150,000: Single applicant
US$10,000: Per additional dependent.
Limited Offer Period: the Government of St. Kitts & Nevis currently offers a reduction in donation from the previous US$195,000 to US$150,000 for a family of four. Offer lasts till December 31, 2020.
Note also that the following are the required due diligence fees:
US$7,500: Due diligence of the main applicant
US$4,000: Due diligence for the financial sponsor
US$4,000: Due diligence for each dependent above 16.
2. Real Estate Investments
A. Five-year hold period
Applicants may buy property approved by the Government and worth at least US$400,000 or buy shares of the same minimum amount in real estate development. Besides, the applicant must maintain the investment for at least five years.
B. Seven-year hold period
Applicants may invest US$200,000 in a government-approved luxury resort. The applicant must also maintain such investment for at least seven years.
Applicants are required to pay any additional taxes and fees applicable in both cases.
Should you have any questions, or if you would like a detailed breakdown of the exact costs for your family, kindly contact us and we will be delighted to help you.
Location:
St. Kitts & Nevis is located in the Caribbean Sea, about one-third of the way from Puerto Rico to Trinidad and Tobago.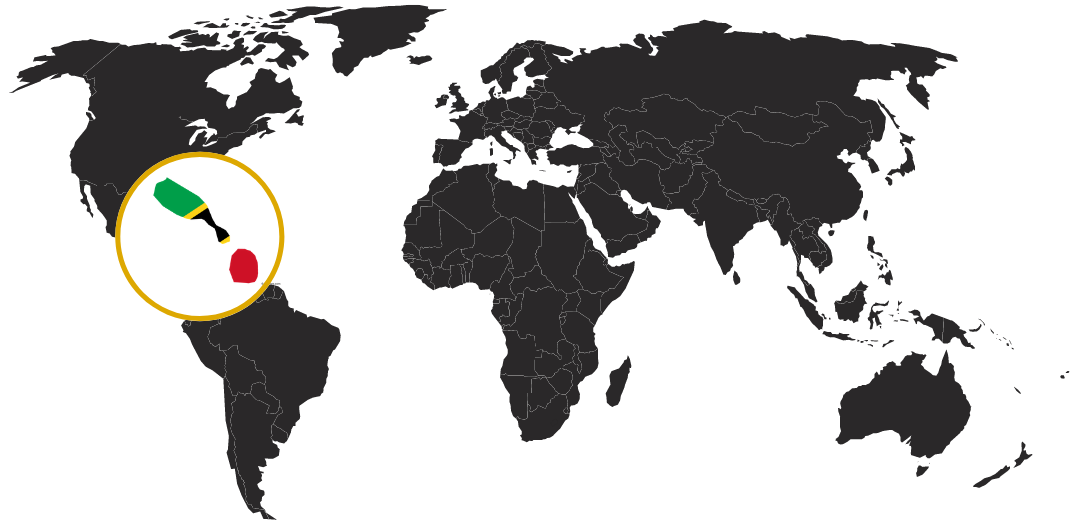 Key Benefits:
• Fast processing. 4 months – or 60 days for the Accelerated Application Process.
• Valid for life. Transferable to descendants.
• Visa-free or visa-on-arrival travel to 156
countries.
• No physical presence required & no minimum stay required.
• Attractive program and processing costs (from just $150,000).
• Dual citizenship recognized.
• Attractive tax regime. No tax on income, wealth or inheritance.
• Entire family are eligible. Including spouse, children, parents and siblings.
• Short investment period. 5-7 years if you invest in property.
• Investment required only after approval.
• Confidentiality. Information on investors who acquire citizenship is kept completely confidential.
Population:
52,329
Economy:
Tourism-based
Capital:
Basseterre
Time zone:
UTC-4
Total area size:
261 sq. km.
Age Demographics:
0-14: 20.61%, 15-24: 14.82%, 25-54: 44.85%, 55-64: 11.38%, 65+: 8.34%
Language:
English (official)
Religions:
Anglican, Other Protestant, Roman Catholic
Goverment Type:
Federal parliamentary democracy (National Assembly) under a constitutional monarchy and Commonwealth realm
Currency:
East Caribbean dollars (XCD), tied to USD (1 USD = 2.7 XCD).