When investors make key investments in Saint Kitts & Nevis, it opens the road to Citizenship and a Passport to the World
Please see below full fee schedule for Saint Kitts and Nevis passport program. The fee includes Government fee, Due diligence and Lawyer office fee (all inclusive in one package). Additional fee for family and children.

Donation to the Government Sustainable Growth Fund

Applicants may qualify for citizenship through a contribution to the Sustainable Growth Fund (SGF).
Single applicant: a non-refundable contribution of USD$150,000 is required
Main applicant with up to three dependents (for example, a spouse and two children): a non-refundable contribution of USD$195,000 is required
Additional dependents, regardless of Age: USD$10,000
There are mandatory expenses under each option and these include:
1. Application forms – USD$250 per applicant

2. Due diligence – main applicant USD$7500
dependent (16 years and older USD$4000)

3. Bank due diligence – main applicant USD$200
(adult dependent USD$100)
(minor dependent USD$50)
4. Expedited passport fee USD$500
5. Legal fees for processing a family application up to four members $10,000
6. Bank charges $50
7. Courier fee $180
Real Estate (Pre-approved real estate projects)
One can invest in
property valued at minimum $400,000, or

invest in Share in a property valued at $200,000.
On approval in principle of an application made through a real estate investment, the Government fee applies, as follows:
Main applicant: USD$35,050
Spouse of the main applicant: USD$20,050
Any other qualified dependent of the main applicant regardless of age: USD$10,050
In addition to the above quoted fees real estate applicants should be aware of purchase cost requirements to place ownership of the property into the applicants name.These are known as conveyance fees and are an average 1.5%of the purchase price.
Location:
St. Kitts & Nevis is located in the Caribbean Sea, about one-third of the way from Puerto Rico to Trinidad and Tobago.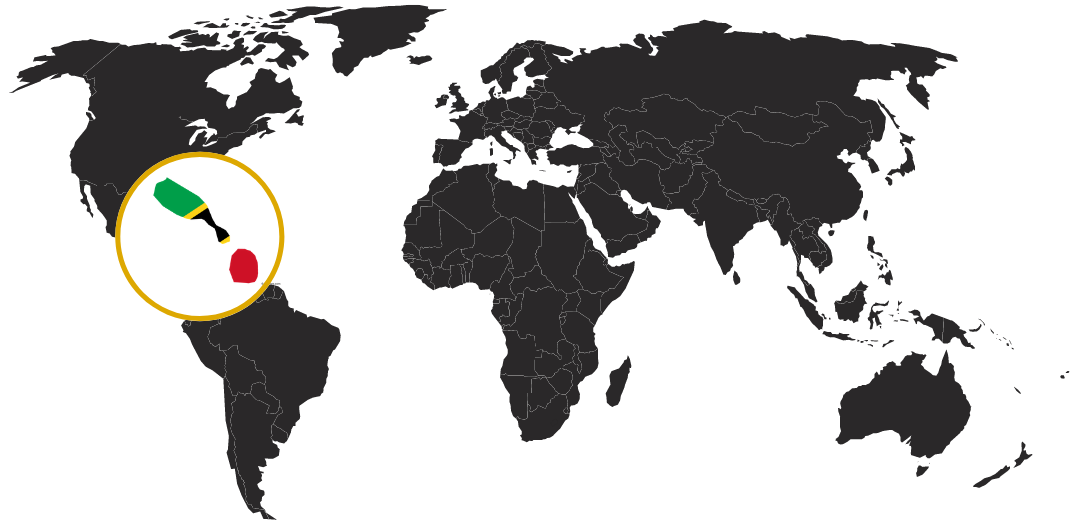 Key Benefits:
• Fast processing. 4 months – or 60 days for the Accelerated Application Process.
• Valid for life. Transferable to descendants.
• Visa-free or visa-on-arrival travel to 156
countries.
• No physical presence required & no minimum stay required.
• Attractive program and processing costs (from just $150,000).
• Dual citizenship recognized.
• Attractive tax regime. No tax on income, wealth or inheritance.
• Entire family are eligible. Including spouse, children, parents and siblings.
• Short investment period. 5-7 years if you invest in property.
• Investment required only after approval.
• Confidentiality. Information on investors who acquire citizenship is kept completely confidential.
Population:
52,329
Economy:
Tourism-based
Capital:
Basseterre
Time zone:
UTC-4
Total area size:
261 sq. km.
Age Demographics:
0-14: 20.61%, 15-24: 14.82%, 25-54: 44.85%, 55-64: 11.38%, 65+: 8.34%
Language:
English (official)
Religions:
Anglican, Other Protestant, Roman Catholic
Goverment Type:
Federal parliamentary democracy (National Assembly) under a constitutional monarchy and Commonwealth realm
Currency:
East Caribbean dollars (XCD), tied to USD (1 USD = 2.7 XCD).