Real Estate in St. Kitts & Nevis
Investing in World-class Real Estate can qualify as the investment for the Citizenship Program
St. Kitts and Nevis has only recently diversified from the sugar industry to high-end tourism, becoming one of the Caribbean's most popular luxury destinations.
To qualify for citizenship under the real estate option, one can invest in
property valued at minimum $400,000, or

invest in Share in a property valued at $200,000.
The minimum real estate investment required by law is US$200,000 (resalable after 7 years) or US$400,000 (resalable after 5 years).
The average processing time is between 2 to 4 months if property is purchased from a developer that meets all criteria for efficient processing of citizenship application. We only assist our clients with approved and qualified real estate options.
Real Estate – Fee and Costs
On approval in principle of an application made through a real estate investment, the Government fee applies, as follows:
Main applicant: USD$35,050
Spouse of the main applicant: USD$20,050
Any other qualified dependent of the main applicant regardless of age: USD$10,050 
In addition to the above quoted fees real estate applicants should be aware of purchase cost requirements to place ownership of the property into the applicants name.These are known as conveyance fees and are an average 1.5% of the purchase price.
Approved Real Estate Projects
We work with many government approved real estate developers in Saint Kitts and Nevis for apartments, luxury villas, hotels and condominiums. Please see below, the list of Government approved real estate projects we work with.
Real Estate in St. Kitts:
Calypso Bay Resort
Kittitian Hill
Ocean's Edge
Leeward Cove
Christophe Harbour- Range Development
Silver Reef
Pirate's Nest
St Christopher Club
Golf View
Marriott Vacation Club
Rawlins Plantation
Sundance Ridge
Half Moon Bay Villas
Sunrise Hill Resort
Royal St Kitts Hotel & Casino Timeshare
Heritage Plantation
Sea Lofts
Manor International Inc
Vista Villas Inc
Manor By The Sea
Beaumont Estate
Beacon Heights
Mosaic Residences
Coast to Coast Development
Horizon Villa
Sel Soleil
Park Hyatt
Real Estate in Nevis:
Botanical Gardens
Mount Nevis Hotel
Carino Hamilton Estate
Nelson's Spring
Cliffdwellers
Paradise Garden Estate
Fern Hill Villa Development
Royal Getaway Estate
Fort Ashby Beach Club
Jones Estates
Four Seasons Resort Estates
Live Nevis
Tamarind Cove Marina Development Ltd
Turquoise Waterfront Condominiums Development
Zenith Nevis
Location:
St. Kitts & Nevis is located in the Caribbean Sea, about one-third of the way from Puerto Rico to Trinidad and Tobago.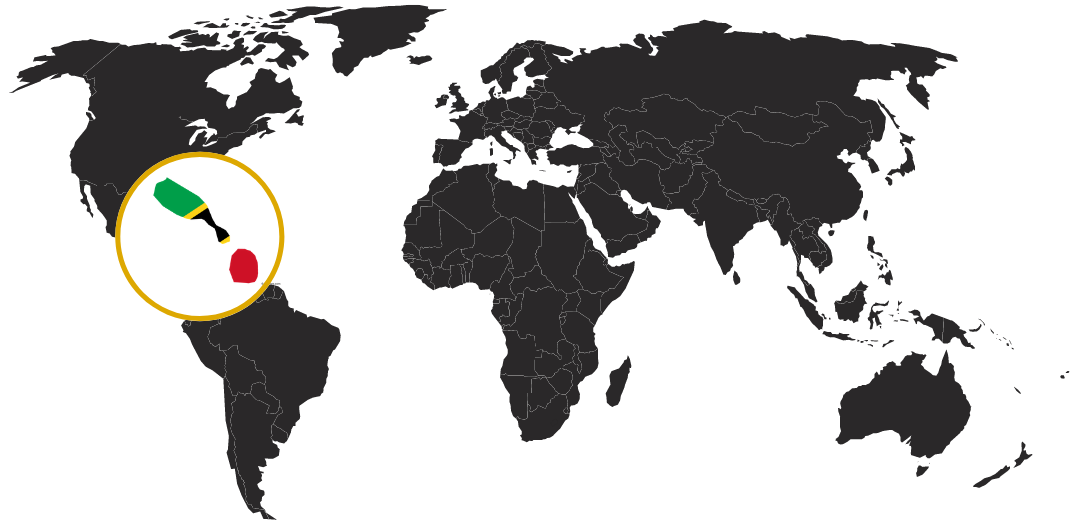 Key Benefits:
• Fast processing. 4 months – or 60 days for the Accelerated Application Process.
• Valid for life. Transferable to descendants.
• Visa-free or visa-on-arrival travel to 156
countries.
• No physical presence required & no minimum stay required.
• Attractive program and processing costs (from just $150,000).
• Dual citizenship recognized.
• Attractive tax regime. No tax on income, wealth or inheritance.
• Entire family are eligible. Including spouse, children, parents and siblings.
• Short investment period. 5-7 years if you invest in property.
• Investment required only after approval.
• Confidentiality. Information on investors who acquire citizenship is kept completely confidential.
Population:
52,329
Economy:
Tourism-based
Capital:
Basseterre
Time zone:
UTC-4
Total area size:
261 sq. km.
Age Demographics:
0-14: 20.61%, 15-24: 14.82%, 25-54: 44.85%, 55-64: 11.38%, 65+: 8.34%
Language:
English (official)
Religions:
Anglican, Other Protestant, Roman Catholic
Goverment Type:
Federal parliamentary democracy (National Assembly) under a constitutional monarchy and Commonwealth realm
Currency:
East Caribbean dollars (XCD), tied to USD (1 USD = 2.7 XCD).